In 1988 my college room mate recovered my Bible.  Within a few short years of purchasing my Bible I had worn out the 'leather' (cardboard) cover and I felt like I had just begun to break it in.  Two and a half decades later, I find that the gift of a leather cover was one of the most valuable gifts I have ever received.  It has enabled me to keep the same Bible – affectionately named "Yada" (Hebrew – to intimately know) – through many seasons … marriage, kids, life, and SoHK (School of Hard Knocks.) Truly, my relationship with Jesus has been greatly enhanced because I have a Bible that remains.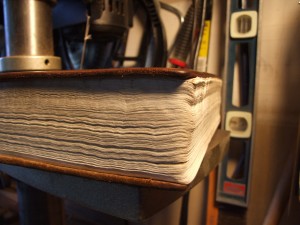 As you can see, the leather shrinks with time – hence the 1/4″ minimum margin on Bibles that I recover.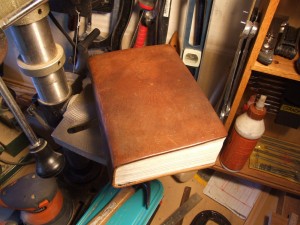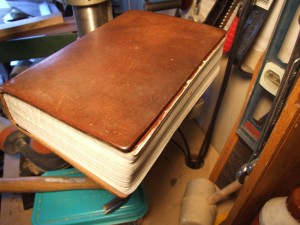 Recover The Bible is a "tent-making" business for my family as we labor to communicate a message of God's wisdom.  Our journey has taken us through the trenches of the battle over the next generation as a public school teacher, youth pastor, children's pastor, and public charter school director.  We have found, though many are aware of the loss of a generation and the condition of the church, the wisdom of man is still significantly mixed in our methods and even proposals for reformation. The turning of the disobedient to the wisdom of the righteous involves turning our hearts as sons to the ways of our Father and our ancient father's of the Family of faith, and then, therefore turning the hearts of a generation of fathers to their children.  Wisdom builds for the long-term (generationally) because success is achieved in the 3rd generation – our children's children.  We are being built by the Lord into His House in northern Colorado.  Children receive a Kingdom mind-set by learning Tools from Wisdom's Tool Box; training to see the brevity of life and love others as Christ asked His followers to love and live out the gospel as church not attending church.
My generation knows how to 'do church' but most do not know how to build the Kingdom of God as a House, a Spiritual Family from generation to generation.  We desire for the next generation to have a living testimony of the House the LORD builds and a city He watches over, Wisdom's House, for His Name sake.
Brett, Michelle, Gracie Joy, with Josh & Alyssa Funk
For more in formation visit www.wisdomshouse.org.